The 2021 Subaru Love Promise Customer and Community Commitment Award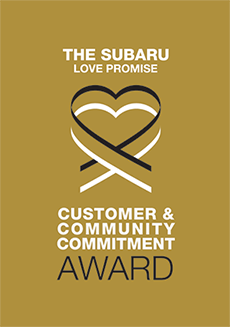 We've been nationally recognized for our dedication to our customers, our community, and the Subaru Love Promise.
We're honored to receive the 2021 Subaru Love Promise Customer and Community Commitment Award. This award nationally recognizes elite Subaru retailers who provide an exceptional customer experience at every interaction with Subaru. These retailers have also demonstrated an outstanding commitment to supporting passions and causes in their local communities in important areas such as the environment, community, health, education, and pets.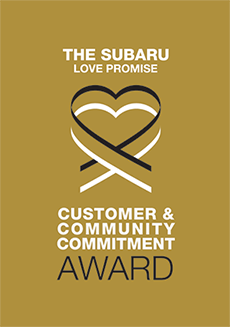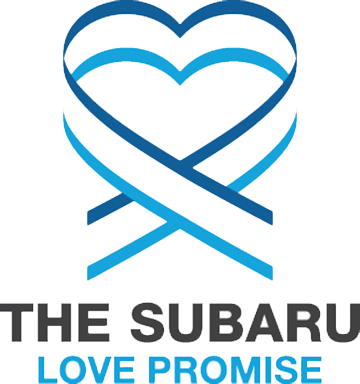 What is the Subaru Love Promise?
Subaru and our retailers believe in making the world a better place and the Subaru Love Promise is our vision of respecting all people. This is our commitment to show love and respect to our customers and to work to make a positive impact in the world.
How is Wallace Subaru of Bristol dedicated locally to the Love Promise?
Our Love Promise can be seen in various partnerships with local charities and non-profits. We're grateful for the opportunity, not only to be a part of our community, but to serve it as well. Our support of other organizations that reach out to those in need and the developing youth show our Love Promise and reinvestment in the community.
Agape Christian Ministry, Avoca Little League, Western Little League
Crossroads Medical Mission, Healing Hands, American Heart Association
Love Promise Stories from Wallace Subaru of Bristol
Subaru and Wallace Subaru of Bristol believe in making a positive impact on the communities in which we live and work. We uphold that belief through our Love Promise Community Commitment. Every month, we select inspiring stories from customers and partners from around our area who strive to support our collective commitment and feature them here
Wallace Subaru welcomes For Pete's Sake Rescue - Ada F
The Wallace Subaru family opened their hearts to For Pete's Sake Animal Rescue in October 2020 For a very successful adoption event. This wonderful organization gave us a warm and hearty welcome. The staff very courteous, the ownership eager to work hand-in-hand with us. The show room immediately turned into an adoption center of which three of the seven dogs and one of the three cats that we brought were adopted into loving homes. It was evident by the courtesy of everyone at Wallace Subaru to save the lives of less fortunate animals. Wallace Subaru provided the perfect adoption environment and were so accommodating to our every need. This is our second year at this event and look forward to the next. It is obvious that Subaru nationwide has a heart for animals and we are so appreciative to the entire Team for this opportunity. The event was well publicized and the community receptive. There was a steady flow of individuals interested in making a difference in the life of a rescue animal. Our friends at Wallace Subaru literally rolled out the red carpet for us. Our sincere us appreciation to Wallace Subaru and Subaru nationwide For this great opportunity to for Pete sake animal rescue. With deepest appreciation
---
My Subaru Dealer Cares About the Environment - JON A
You wouldn't naturally think that a car dealer which sells and services automobiles that are mostly powered by fossil fuels would care about the environment but I was pleasantly surprised during a recent visit to Wallace Subaru in Bristol, TN. At home I am very conscientious about recycling as much household items as possible. But when I'm outside my home at restaurants and other businesses, I never find places to recycle and with regret, I just throw my trash in the typical receptacles. So when I was recently in for service at Wallace Subaru in Bristol, I noticed they have set up recycle bins specifically for coffee pods and creamer capsules. Not only was I pleasantly surprised to see that Wallace Subaru is environmentally responsible, but I was also very happy to find out that these recycled materials would be used to make useful, high-quality recycled products, like park benches, picnic tables, and playground materials to be donated to my local community. In a time when the environment is more important than ever it's nice to see that Wallace Subaru is doing their part to help both the earth and my local community.
---
More Than Just Warmth - Brian P
The Haven of Rest Rescue Mission serves as a bridge to the needy, helping desperately hurting people move from the despair of homelessness and hunger, to a life where they flourish with renewed hope, positive self-esteem, sustainable income, and permanent housing. We are so grateful to have Wallace Subaru supporting this effort that benefits these individuals and significantly strengthens the entire Bristol community. Wallace Subaru has provided the Haven of Rest with 80 blankets to be given to those at risk of exposure to the ravages of Winter weather, helping to preserve life and extend a hand up to those experiencing hardship. Every blanket provides warmth to the homeless, but it also provides an opportunity to share encouragement, offer hope, and build trust with staff members as they offer shelter, food, and assistance that can help people struggling with loss a job, loss of a relationship, addiction, mental health issues, or sickness, to move towards healing and a better life. Thank you, Wallace Subaru, for your kindness, caring, and generosity that is making Bristol a great place to live.
---
We Hear You, Wallace Subaru of Bristol! - Cindy R
Crossroads Medical Mission's 43' mobile clinic pulls into a local homeless shelter to deliver health care to our uninsured friends of the community. We set up our intake and registration table in the parking lot for our patients. Before the pandemic, we set up registration inside the chapel. Things look a little different than they did before the pandemic. Now we dress up in personal protective equipment to be certain not to share the germs, but only to 'Share the Love!' Our registration setup may not look the same, but it certainly sounds the same! The mobile clinic positions itself within a few blocks of Wallace Subaru of Bristol. Whenever a call is made from their outdoor sound system, we faintly hear the announcement in the distance. Regardless of the actual words of the announcement, what we hear is, "This is Wallace Subaru of Bristol and we Share the Love with Crossroads Medical Mission!" Share the Love enabled Crossroads Medical Mission to provide care to a 47 year old grandmother who is raising her grandchildren. For decades she assumed she could get no help for her Hepatitis C because she had no insurance. With all of her challenges, her Hepatitis C took a back burner and she "just didn't deal with it." However, Crossroads was able to get her medications and treatment. She tearfully expressed her gratitude and completed her three months of treatment. Her follow up testing indicated the Hepatitis C was no longer detectable! The generosity of Subaru Share the Love helped Crossroads to leverage their contribution to provide treatment, medication and labs that were valued at nearly $100,000 to our patient. Wallace Subaru, We Hear You! and we love you for Sharing the Love with Crossroads Medical Mission!
---
Make a Dog's Day - Andy A
Subaru is proud to establish the first-ever National Make A Dog's Day October 22nd. As part of Subaru Loves Pets month, we're inviting all dog lovers to do something extra special for their furry best friends. Plus, Subaru will be focusing our efforts on helping the hardest-to-adopt shelter Dogs –those with special needs-find homes. Get ready to fall in love withThe Underdogs. #MakeADogsDay Meet Gabi! Gabi has been at the Humane Society of NWGA (Northwest Georgia) for seven years. If you asked the volunteers to pick their favorite animal at the shelter, Gabi would win hands down. She does not do well with dogs or cats so must be the only animal in an adult only family. She loves people and will bond very quickly to you. Gabi would make someone a great companion. She is waiting patiently for her forever home. If you have room in your heart and your home for this sweet girl then please fill out an adoption application, highlight and right click this link: https://hsnwga.org/adoption/application-for-adoption/?fbclid=IwAR2Ie18p6U3ryKi-niIuIZFTd-waD98xrySl7IJmiRBXE239WP7dpODubiU #MakeADogsDay #SubaruLovesPets #TheUnderdogs
---
Subaru leads the way in 'March for Meals' - Lynna M
Richlands Mayor Paul Crawford rode in Appalachian Agency for Senior Citizens' Subaru Outback as grand marshal of the "March for Meals" event that was held in downtown Richlands. Appalachian Agency for Senior Citizens in Cedar Bluff, Va., coordinated the annual Meals on Wheels "March for Meals" event on Tuesday, March 26, with the Subaru Outback leading the way. It was a chance to shine a light on the issue of senior hunger and isolation in the region, as well as an opportunity to showcase AASC's newest nutrition site in downtown Richlands. Richlands Mayor Paul Crawford rode in the Subaru as the grand marshal of the march. About 80 seniors from across the four-county area participated in the march that began on Suffolk Avenue, rounded the block and ended at AASC's "Community Central," located at 1500 Front Street. Seniors, town officials, community members, and AASC staff gathered for fellowship and a nutritious meal after the march. Town Manager Tim Taylor and the town staff, Police Chief Jerry Gilbert and his officers, and Richlands Fire and Rescue assisted with coordinating the "March for Meals" and helped with blocking the streets in order to keep the seniors safe while walking. AASC's Property Manager Jackie Ray and his crew went above and beyond their normal work in renovating the "Community Central" property. Their hard work and dedication in completing the first phase of the project is visible in the finished product and certainly deserving of all the compliments that were heard during this event. Jennifer Roberts of WVVA-TV was on hand for the entire event and captured the essence of the day, as well as conveying the serious issue of senior hunger that affects so many people in our local communities. Many of the staff members at Appalachian Agency were recognized for their help in making the "March for Meals" a success. Last, but certainly not least, all the seniors who participated from the nutrition sites across the four-county area — Clincho, Clintwood, Dante, Grundy, Richlands, Swords Creek, and Tazewell — truly enjoyed themselves. These special people are part of the reason AASC works to promote independence and a better quality of life for older adults so they are able to remain happy and healthy at home for as long as possible. The annual March for Meals commemorates the historic day in March 1972 when President Nixon signed into law a measure that amended the Older Americans Act of 1965 and established a national nutrition program for seniors 60 years and older. Since 2002, Meals on Wheels programs from across the country have joined forces for the annual awareness campaign to celebrate this successful public-private partnership and garner the support needed to fill the gap between the seniors served and those still in need.
---
Blountville Middle School - Donna H
Thank you so much for the book donations. Your kindness and support to our school is so appreciated and very much needed. Thank you again, BMS faculty and students
---
Making a Dream Come True at Anderson Elementary - Ginger C
T. C. Baker and Wallace Subaru of Bristol made a dream and an idea a reality for our students at Anderson Elementary School. In order to create a new space that invited students to read and invent, we decided to completely redesign our library and add a Makerspace. Our reading theme was "What Can I do with an Idea?" Our budget was limited but our vision was big and this story demonstrates how powerful a partnership and an idea can be for our students. In the summer of 2018 T.C. Baker contacted us with some exciting news. He shared that on behalf of the American Association for the Advancement of Science (AAAS) regarding the 2018 AAAS/Subaru Loves Learning Book Donation Program, Anderson had been elected to receive a donation of 150 AAAS/Subaru SB&F Prize Winning and Finalist Books. We were thrilled with this investment because we were in the process of renovating our library to include a new Makerspace for students and adding a new Reading Zone. The vision for the renovation was to provide real-world science, technology, engineering, and arts opportunities to our students both before, during, and after the school day. The initial investment of books was focused on science and added a plethora of new resources that connected reading and the vision for the Makerspace. Our school vision is Learning and Leading to Impact Our World and we invited T.C. and his team to an assembly to thank them for the new books and tour our library. We shared our idea for a modern Reading Zone and Makerspace that focused on student readiness for robots, reading proficiency, and college and career opportunities. Our students were so excited and presented aspects of programming VEX Robots, writing in engineering journals, and learning through exploration in our Makerspace. It can be intimidating to present to adults but the team at Wallace took the time to listen and encourage our students to continue to design and build. Following the visit, once again, T.C. sent me an email and conveyed how much they believed in our vision. He told me they wanted to invest $1,000 in our new library. Our team at Anderson were overwhelmed with gratitude and encouraged by the gift he provided. Community partnerships are a powerful tool to make a difference in our children's lives. The vision of Wallace Subaru to make sure their customers and community feel love and respect are not just words. This is a belief system they model in our community and now our students are learning in a new and exciting dimension this year. As a result of their gift, we have completed the new Reading Zone and added an early morning RAMS Reading Club and after-school opportunities for Vex in our Makerspace. Many times people say that children are our future but at Anderson believe we are their future. When we create innovation learning zones our children will excel and be prepared for the leadership in the future. T.C. Baker and the team at Wallace Subaru of Bristol are a model example of building lifelong relationships that empower schools and communities to excel. We are deeply grateful for the investments of books and money but we also want to thank T.C. for taking the time to get to know us and our vision at Anderson. His commitment to student success and support for our faculty is inspirational and will impact our families for years to follow. Thank you for believing in our work! We are deeply grateful for the support. Dr. Ginger Christian Principal Anderson Elementary School
---
Riding in style from the Senior (Citizens) Prom - Lynna M
Local high school students across the county held their senior proms in May, but on Friday, June 1, a different group of seniors were treated to a special afternoon at the first AASC Senior Prom. Appalachian Agency for Senior Citizens transported seniors from all of the four counties in their service area — Buchanan, Dickenson, Russell and Tazewell — to the Richlands Police Department for an afternoon of dancing and dining.The venue was transformed into a festive theme for the "Blue Moon Gala," with beautiful decorations, a balloon archway, a photo backdrop, elegant tablescapes that included moon pies and even a disco ball. Richlands High School SCA members assisted with decorating and the decorations were on loan from the Richlands High School prom committee. DJ kept the festive atmosphere going with lots of dancing music. AASC operates an adult day care facility and the members were also transformed for the occasion. They were decked out in their gowns and suits, complete with special hairdos, makeup, corsages and boutonnieres — all ready for a special afternoon of music, dancing, food, photos and plenty of fun.The afternoon was filled with plenty of smiles and happy memories for all who attended Appalachian Agency for Senior Citizens Senior Prom. "I didn't have this much fun at my own senior prom in high school," said AASC's Executive Director Regina Sayers. When it was time to depart, the prom king and queen Billy and Linda were treated to an extra special ride. Nutrition Director Leah Call pulled out all the stops and chauffeured the happy couple in the Meals on Wheels Subaru Outback back to AASC, complete with a police escort. Prom King Billy and Prom Queen Linda were crowned at the gala and were treated to a special ride back to the agency, courtesy of the Meals on Wheels Subaru Outback and a police escort.
---
Blankets delivered to cancer patients with LLS - Lori F
On Thursday, July 12, 2018, a representative of the Leukemia & Lymphoma Society met Tim Baker and another Wallace employee at the Ballad Cancer Center in Bristol to deliver blankets to patients. While there, they met a gentleman who was battling lymphoma and recently diagnosed. Receiving the blanket and tote meant a lot to him and his wife. In fact, he was so tickled to know this was a joint partnership with LLS and Subaru because he was working on getting financial assistance from LLS as well as other information and he owns a Subaru. He said he appreciated the blanket and knowing that this program exists. A total of 80 blankets and totes were delivered and will be passed out to different cancer patients. Another great partnering of Where Love Meets Hope.
---