The 2017 Impreza is big news for Subaru. It is the first Subaru model produced on Subaru's all new global platform! What does that mean for you? Most importantly...the new Impreza is SAFER THAN EVER with a 70% increase in body/chassis rigidity that is stronger and cuts body roll in half!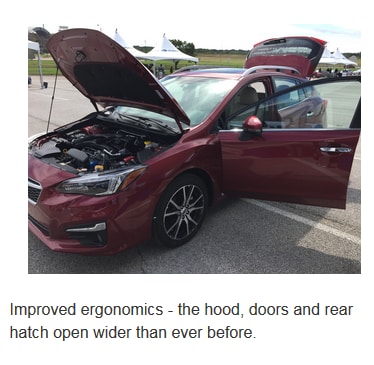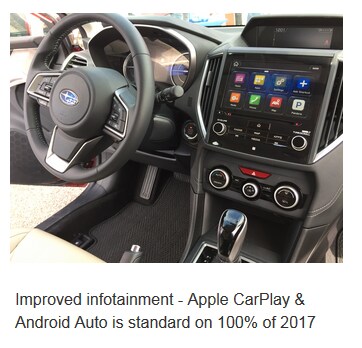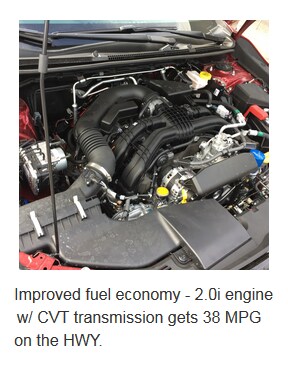 Top 10 2017 Subaru Impreza Enhancements:
1. The 2017MY Impreza will be the first Impreza built in the United States of America!
3. Subaru Global Platform - 105.1 inches of wheelbase, an increase of 1 inch over 2016, also the length and width of the 2017MY is increased 1.5 inches
4. 
Subaru Global Platform
 - Incredibly low
NVH levels
; new engineering brings noise, vibration and harshness levels to all time lows for the Impreza
5. Lower center of gravity and double-wishbone independent rear suspension along with new mounting points for the stabilizer bar cut body roll 50%
6. Improved fuel economy - '7th gear settings' for the CVT transmission, aluminum hood, available active grille shutter improve highway MPG to 38!
8. Price - Starting MSRP of just $18,395 before destination
10. Symmetrical All Wheel Drive - Still the only compact sedan to make all wheel drive standard!
Subaru of America opened its sold order system to accommodate new orders of the 2017 Impreza on October 24, 2016. Pick your trim level today:
2017 Subaru Impreza - Pricing
 Model
/Trim
 Trans
Avlb Option Packgs 
 MSRP including dest. & delivery
Impreza 4-Door Models:




 
 2.0i (HJA)
 5MT 
01
 $19,215
 2.0i (HJB)
CVT
 01 
 $20,215
 2.0i Premium (HJD)
 CVT 
 11 , 12, 13, 15
 $22,015
 2.0i Sport (HJE)
 5MT
 21, 22
 $22,815
 2.0i Sport (HJF)
 CVT
 21, 22, 23
 $23,615
 2.0i Limited
 CVT
 31, 33, 35
 $24,915
 
 
 
 
 Impreza 5-Door Models:
 
 
 
 2.0i (HLA)
 5MT
 01
 $19,715
 2.0i (HLB)
 CVT
 01
 $20,715
 2.0i Premium (HLD)
 CVT
 11, 12, 13, 15
 $22,515
 2.0i Sport (HLE)
 5MT
 21, 22
 $23,315
 2.0i Sport (HLF)
 CVT
 21, 22, 23
 $24,115
 2.0i Limited (HLG)
 CVT
 31, 33, 35
 $25,415
2017 Subaru Impreza - Available Option Packages
| | |
| --- | --- |
|                                                  Description |                                                          MSRP |
|  01 - Standard Model |                                                            N/A |
|  Premium |   |
|  11 - Standard Model |                                                            N/A |
|  12 - Moonroof |                                                         $1,000 |
|  13 - Eyesight + Blind Spot Detection & Rear Cross Traffic Alert + Steering         Responsive Fog Lights |                                                         $1,395 |
|  15 - Eyesight + Blind Spot Detection & Rear Cross Traffic Alert + Steering         Responsive Fog Lights + Moonroof |                                                         $2,395 |
|  Sport |   |
|  21 - Standard Model |                                                           N/A |
|  22 - Moonroof + Blind Spot Detection & Rear Cross Traffic Alert + Harmon         Kardon Amplifier and Speakers |                                                         $2,150 |
|  23 - Eyesight + Moonroof + Blind Spot Detection & Rear Cross Traffic Alert         + Harmon Kardon Amplifier and Speakers |                                                         $2,945 |
|  Limited |   |
|  31 - Standard Model |                                                           N/A |
|  33 - Eyesight + Moonroof + Blind Spot Detection & Rear Cross Traffic Alert |                                                         $2,495 |
|  35 - Eyesight + Moonroof + Bling Spot Detection & Rear Cross Traffic Alert         + Navigation System + Harmon Kardon Amplifier and Speakers |                                                         $3,845 |